Leaf-Shaped Book:
First, I  cut out a leaf (Designer's Calendar) using my cricut and gypsy.
I used "layer one"on the gypsy to cut out the leaf, and "layer two" to write the word, AUTUMN ( Gypsy Wanderings).  *Be sure to switch your blade to your marker when you go from layer one to layer two.


Next, I cut out slightly smaller leaves from white paper for the pages of the book.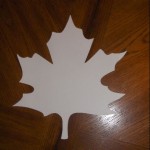 Use the leaf-shape book for:


Writing poems
For example:

A Fall Song
by Ellen Robena Field
Golden and red trees
Nod to the soft breeze,
As it whispers, "Winter is near;"
And the brown nuts fall
At the wind's loud call,
For this is the Fall of the year.
Good-by, sweet flowers!
Through bright Summer hours
You have filled our hearts with cheer
We shall miss you so,
And yet you must go,
For this is the Fall of the year.
Now the days grow cold,
As the year grows old,
And the meadows are brown and sere;
Brave robin redbreast
Has gone from his nest,
For this is the Fall of the year.
I do softly pray
At the close of day,
That the little children, so dear,
May as purely grow
As the fleecy snow
That follows the Fall of the year.
Autumn words

:
For example:
acorn
apple
autumn
chestnuts
chilly
cider
cold
cool
cornucopia

cranberry
fall
football
hay
leaf
pumpkin
scarecrow
season
Working with Words
Write words that have the same"ea" sound as in leaf.
eat
beat
neat
seat
heat
meat

Links to great autumn sites:
Liked this post? Subscribe to my RSS feed and get loads more!